Cost of Living UAE Report 2016-17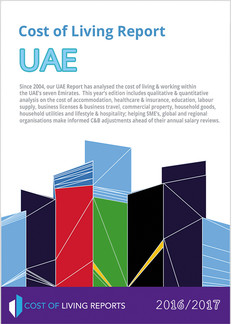 See sample pages
Since 2004, the UAE Report from BridgeTheData has analysed the cost of living and working within the UAE's seven Emirates. This year's edition includes qualitative and quantitative analysis on the:
Accommodation
Healthcare and health insurance
Education
Business licenses & business travel
Commercial property
Household goods
Household utilities
Lifestyle & hospitality
The report helps SME's, global and regional organisations make informed C&B adjustments ahead of their annual salary reviews.
Report Details
Period Covered – October 2016 – January 2017, including up to 6 years of historical comparison in places
Geographical Areas Covered – Dubai, Abu Dhabi, Sharjah, Fujairah, Ajman, Umm Al Quwain & Ras Al Khaimah
Report Content – Legislative, political & social analysis via commentary, tabular analysis, graphical analysis along with all report sources
Report Citations – Several hundred, including the World Bank, EIU, IMF, WHO, United Nations and more
Report Size – 149 pages
Full Report
Granular level data - all charts and tables with commentaries
$ 1950
Industry-wise Salary Reports
BridgeTheData also publishes industry-wise Salary and Compensation Reports.
Reports available for:
Oil & Gas
Construction, Engineering and Manufacturing
Call us on +971 4 278 5200, or email costofliving@gulftalent.com to know more.
About BridgeTheData
Formerly known as Cost of Living Reports Middle East, BridgeTheData publishes reports on the cost of living for all of the GCC, Iran and Egypt. With over 12 years of data accumulated on the cost of living across the MENA region, BridgeTheData helps to close the gap between HR and finance personnel and the limitless data points they need access to, to accurately formulate their annual C&B adjustments and allowances.