Life with us
Working at Carrefour means dealing directly with 100 million customer households throughout the world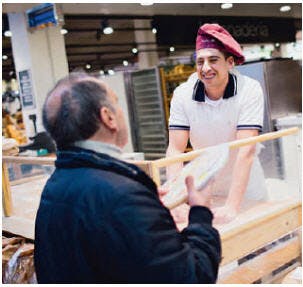 Carrefour has nearly 120 generalist and specialist jobs, almost 90% of them involving direct contact with customers. What sets Carrefour apart from the competition is its passion for the products it sells, its sense of team spirit and service, the respect that employees have for their customers and their ability to show initiative.
Shared values
Working at Carrefour means being in direct contact with customers on a daily basis and forever thinking of new ways to meet their needs and make their lives easier. And in order to do this, a Carrefour employee needs to possess a number of fundamental qualities: a passion for retail, the ability to pay attention to their co-workers and customers and a commitment to doing their job well.

Carrefour employs people for a wide variety of positions: the Group's various banners hire sales employees, checkout employees, butchers, fishmongers, sector managers, store managers and many others. And all along the logistics chain, a variety of expertise is needed, including supplier, order picker, team manager, dock manager and quality inspector. With this wide range of jobs, the Group gives everyone a chance and opens its doors to talents of all kinds: young and old, men and women, graduates and people without degrees, people with experience in retail and those just starting out.
Getting as many people as possible into work is a key aspect of Carrefour's strategy. In France, the Group encourages initiatives to sponsor young graduates from working-class neighbourhoods and supports them in their job search. It is also committed to providing job seekers with specific training for its in-store positions through the work it does with the Préparation Opérationnelle à l'Emploi, an organisation that provides companies with financial support so it can train people before it recruits them. In Brazil and Spain, it provides thousands of young people with training and work/study contracts.
Furthermore, the variety of jobs available and the priority given to local recruitment make Carrefour a key player for people seeking to enter the job market in the areas in which it operates. All around the world, the Group encourages recruitment as close to its stores as possible.

93.6% of Carrefour employees have permanent work contracts
Confidence on a day-to-day basis
Providing all employees with the best possible working conditions
In order to form high-quality bonds with their customers, employees must first feel comfortable in their career, position and team. With this in mind, the Carrefour Group has introduced an effective work organisation scheme that respects employee needs.

Balancing work and personal time
Whenever possible, Carrefour tries to increase the numbers of hours worked by its part-time employees, who account for less than 24% of its total staff. Employees may also move towards full-time employment with our job-versatility scheme. Through this scheme, they can work in another department in the store or in another position and develop new skills.

As a signatory of the Parenthood Charter, Carrefour is committed to implementing concrete initiatives to help its employees strike a better balance between their work and their lives as parents. In Spain, for example, employees can now add annual leave to paternity leave.
Carrefour also assumes responsibility for the health and safety of its employees. In addition to meeting regulatory requirements, the Group ensures that its employees comply with hygiene and safety regulations, providing accident-prevention training, running awareness-raising campaigns and conducting regular audits of its facilities. For several years, Carrefour has also been pursuing an approach aimed at preventing workplace psycho-social risks and is trying to tackle musculoskeletal problems by introducing, for example, ergonomic equipment at its hypermarkets and supermarkets to limit handling operations.
Know more about the company