Accepting a Job Offer
Every year thousands of people move to Dubai and take up jobs full of high hopes for a new and exciting work experience in a new place. Some of these new recruits quickly realise that the jobs they've taken are just not right for them or not at all what they were expecting. If you are lucky enough to have received a job offer, you should invest serious time reviewing the company and the job you will be doing to make sure you are not making a move you will soon come to regret. This section aims to help you understand how to evaluate a Dubai job offer and contract, negotiate the best possible terms, and avoid getting your fingers burned.
Evaluating the Job Offer
When a company decides to offer you a job, they might send you a simple one-page offer letter or a full employment contract. Before signing any contract you should make sure you know what you're getting yourself into – to have a good understanding of the company you're joining and your role in it.
Here is a basic guide on key factors to consider:
Role and responsibilities: What are the responsibilities of the job? Who will you be reporting to? Who will you be interacting with on a daily basis? How will your performance be evaluated?
Salary and benefits: Make sure you understand what is and is not included in your package, including any relevant details. For example, if there is a sales commission included, what is it based on? If there is health insurance, what does it cover (and not cover), what hospitals and clinics are included in the coverage? If you have children, do the benefits include school fees and if so, are there limits? It is important for you to know that your package is in line with the Dubai market norm for the role you are taking, and your profile.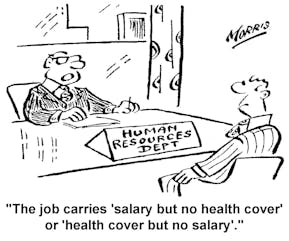 Work location: What does your place of work look like? Will you be working in an air-conditioned office or on an industrial site? How often will you need to travel? Is the place of work near the centre of the city or on the outskirts? Is it close to public transport, or will you need to drive there? (Getting a driving license in Dubai can be a lengthy and costly process, unless you already hold a license from a recognized country.)
Working hours: What would be a typical working day? Will you have 1 or 2-day weekends? Will you be required to work on weekends and how frequently? Are there night shifts? How many days of annual leave are included?
Company culture and fit: Do you see yourself fitting in with the company's culture and style of work? Is the company workforce ethnically diverse or dominated by one particular nationality? What are the languages commonly spoken in the workplace?
Company brand: Is this a well-known company that is going to look good on your CV and help open doors for you in the future (whether locally within Dubai or internationally)? Will the company allow you to develop and practice new skills that will advance you professionally? How established and stable is the company; is there any risk that they may go out of business in the near future?
Role progression: If you do well in the company how could your role evolve over time? What performance benchmarks will you be required to meet for promotion? What sort of training is available to support you in your career progression? If you go back to your home country after a couple of years, would this experience have a positive or negative impact on your career?
Termination restrictions: If you need to switch jobs for any reason, how easy would it be to do so? Is there a minimum period you need to have served to avoid financial or legal consequences? Is the company in a free zone or mainland Dubai? (It is easier to change jobs if your employer is based in a free zone, while outside free zones you might need the employer's consent.)
Gathering this information in advance will help you be prepared and make an informed decision. While hoping that the job will tick as many boxes as possible, you should not expect that it will tick every single box. Moving from your home country to a completely new place in another part of the world, you should expect a lot of things to be different. You should expect to be challenged, to be pushed outside your comfort zone, and to have to make compromises.
In some cases, you may need to start at a lower level of seniority than you have already achieved in your home country, but as you gain familiarity with the local market, you will have the chance to work your way up again.
Sources of Information
The best source of information is your contact in the company who has sent you the offer letter – typically the HR department in a large company, or a line manager in a small company. Don't be shy to ask direct questions to fill any gaps in your understanding of the role.
In addition, you can use the following sources to gather additional information on the company:
Talking to company employees and getting more information on the company's work culture
Visiting the company's office
Talking to the line manager you will be reporting to
Reading about the company online (e.g. its mentions in news articles)
Reading former employees' reviews (e.g. on Glassdoor.com)
Salary and Benefits
The salary structure in Dubai varies a lot between companies. Many companies break up your total compensation between several components, labelled as follows:
Basic salary: Typically 60-70% of your total pay
Accommodation allowance: Typically 30% of your total pay (or alternatively, the company might provide free housing)
Transport allowance: Typically around 10% of your total pay (or alternatively, the company might provide you with a company car)
Not all companies 'segment' packages in this way. Some may refer to your total pay as 'basic salary' without listing allowances separately. At the end of the day, what should matter to you is the total value of the package you receive, rather than how its components are labelled.
Performance-related Pay
Depending on your role, your package may include a variable component of pay that is linked to your performance. This is most common for sales roles, with some roles being 100% commission-based, receiving no fixed salary at all.
Where the role includes variable pay, it is worth asking what range it is likely to be in? What do your earnings depend on? Which targets or KPIs you need to hit to achieve the stipulated commission or bonus? To what extent has this been achieved in the recent past by the firm's existing staff in the same role? Is there a cap on the maximum amount you could earn?
Answers to these questions should give you a fairly clear idea of what your compensation will be. It is best not to rely on verbal assurances but to have these questions answered in writing on email, for future reference and in the event that a misunderstanding or dispute arises. For example, the person who promised you the package may leave the firm and, without a written record, you may struggle to convince his or her successor of what had been promised to you.
Additional Benefits
It is very important to understand which additional benefits are included in your employment package as these benefits can make a significant impact on your financial well-being:
Health insurance: All Dubai employers are required by law to provide health insurance for their staff. It is advisable to find out the details of the specific cover provided by your company, what is included and what is not.
Flight tickets: Some firms include in the package one annual flight to the employee's home country.
Education allowance: Full or partial payment of schooling fees for the employee's children. With top schools costing up to USD 20,000 per year, this can be particularly important if you have several school-aged children. This type of employment benefit is increasingly rare these days, limited mostly to top management positions.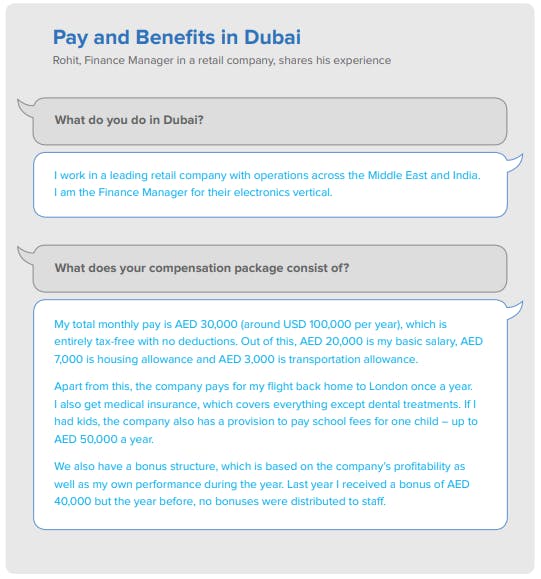 Impact of Nationality on Salary
One of the most contentious issues in Dubai is the discrepancy between salaries for the same role paid to different nationalities. While becoming much less common over time, it is still the case that the average salary of a European national is higher than the average salary of Asian nationals with the same job title. This does not necessarily mean that in the same company peers in the same role have different pay packages. Rather, it is more likely that companies that wish to employ European or Western nationals tend to offer higher salaries across the board.
Some view this as highly discriminatory, while others see it as quite natural, considering that the costs of living in Europe are significantly higher than in Asia and that for employees from Asian countries Dubai salaries are quite high in proportion to what they can earn in their home countries.
Negotiating the Offer
Negotiating the compensation package is quite common in Dubai. Your ability to negotiate a higher package depends on several factors:
How your initial offer compares with the market norm for that job
How unique and in-demand your profile and skillsets are
How popular and in-demand the company is
Whether you will be the only person in that role (in which case the company has room to be more flexible) or there are others already in that role (in which case your salary has to stay in line with your colleagues' salaries working at the same pay grade)
Salaries vary hugely according to industry, years of experience and nationality. It is important to understand the prevailing market range for the role you have been offered. Up-to-date salary information for most job titles in Dubai, along with variations by industry, years of experience and nationality can be found on www.gulftalent.com/salaries.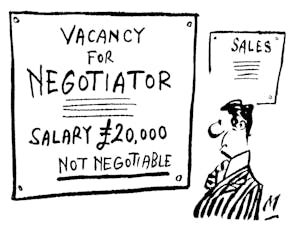 Note that it is common in Dubai to be asked your salary expectations during the interview itself, and this might also influence the salary you are eventually offered. You should be aware that if you quote too high a figure, you could very well price yourself out of the job. If you mention your previous salary, you may be asked for proof of it.
Signing an Employment Contract
Your Dubai employment contract can be anything from one page to tens of pages. At the very least, it will cover the following:
Your salary package
Your start date
Whether your contract is open-ended or for a fixed period of time
Your job role
Your working hours and place of work
Your annual leave
Your probation period
Your notice period for termination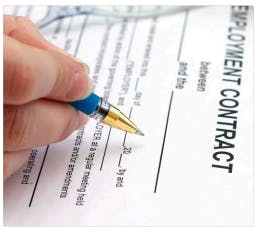 The probation period is a common clause in employment contracts. This is the first period of your employment during which the employer may terminate your contract without notice if your performance is deemed unsatisfactory. The probation period can last up to 6 months, though in practice most companies limit probation to 3 months.
The UAE labour law is your best reference on your rights as an employee under the law. Among other things, it lays out the conditions for termination. This covers what you are entitled to when leaving your employment. It also outlines for what reasons your company can dismiss you under disciplinary circumstances. (The full labour law is available for free at www.gulftalent.com/uae/resources/labour-law).
Finally, you should make sure that everything that was promised to you during the interview process is unambiguously reflected in the employment contract to ensure that your employer will not renege on what has been negotiated and agreed to.
Getting your Work Permit
Unless you are a citizen of a Gulf country, you will need a work permit (also called a residence visa) to be allowed to work in Dubai. The process is easy and straightforward. Once you receive and accept a job offer from a company in Dubai, they apply for your work permit, which is usually granted within 2-4 weeks. Once the visa is issued, it is stamped in your passport after administrative procedures that take additional time.
Visa Requirements
There are very few eligibility requirements for a Dubai employment visa. You do need to pass a medical test for Tuberculosis and HIV, and in some cases you also need to hold a university degree.
Degree Attestation
Most specialist and managerial positions in Dubai require a university degree in order to secure a work visa. If your prospective job falls into this category, you would need to have your degree certificate attested by the UAE embassy in your home country. It is best if you do this before leaving home, to avoid delays to your visa once you're in Dubai.
Sponsor Rights
When you receive an employment visa, your employer is your 'sponsor' in the country and in some respects becomes officially responsible for you. As a result, the employer also has certain rights over you, meaning that you need company permission for certain transactions like opening a bank account, applying for a loan or getting a driving license. In practice, this is a formality and employers generally don't refuse to write letters of consent for standard situations.
Some Dubai companies insist on retaining your passport during the term of your employment. In such cases, the company would issue your passport whenever you need to travel. On your return from travel you would be required to surrender your passport to the company.
This practice is technically illegal and rarely happens these days for those in professional roles, but it does happen and some employers may even make this a condition of your employment. You may want to clarify your employer's policy on passport retention before accepting a job offer.
Short-term Contracts
Short-term contracts (generally lasting from 3 to 6 months) do exist but are rare in Dubai. This is because of the cost and effort that goes into sponsoring an employee and the fact that standard employment visas are for 3 years.
Those who don't need sponsorship, such as wives on their husband's visa, are more likely to be able to secure short-term contract positions.
More recently, new types of visas have been introduced for short-term work or even for the employee to be their own sponsor, and hence be able to switch easily from one employer to another. Over time these new visas will almost certainly increase the number of short-term contract positions available.
Avoiding Job Scams
As one of the world's most popular employment destinations, Dubai has attracted many unscrupulous scam artists from around the world who con jobseekers by promising them dream jobs in Dubai for a price and then disappearing.
To avoid getting caught in such scams, look carefully into any company that makes an unsolicited approach to you. Be suspicious of any offers that come easily and sound too good to be true. And never, ever transfer money to a company claiming to have a job offer for you. See below for more details of the most common types of scams.
Employer Scams
This is when you get a job offer over email, directly from what sounds like a well-known multinational company or a large Middle Eastern firm, usually offering you a mouth-wateringly attractive salary, without even conducting a formal interview. When you confirm your interest in the job, then you are asked to pay for 'admin fees' to process the offer and the visa. Once you pay, you'll never hear another word from anyone.
Note that employers typically have several rounds of interviews and never give you an offer simply on the basis of a CV. A legitimate employer never asks you to pay to get a job with them.
Recruitment Agency Scams
Authentic recruitment agencies earn their fee from employers when they successfully fill a vacancy. They are not allowed to charge a fee to jobseekers for finding them a job (although they may charge fees for services such as consulting, training, etc.). Fake recruitment agencies, claiming to act on behalf of some major corporation, will approach a jobseeker with a fantastic job prospect and will ask the jobseeker to pay for each stage of the recruitment process, such as a fee to get an interview. Once the jobseeker hands over the fee, the interview, the job and the agency, evaporate into thin air.
Jobsite Scams
There are a number of sites that list jobs in Dubai with very attractive salaries, but require you to pay a fee before you can apply for those jobs. Usually when you register and pay, you never hear back from the jobsite or the employer supposedly advertising the job.
In general, legitimate jobsites allow you to register and apply to jobs for free, and only charge for additional value-added services (such as CV writing, enhanced visibility to employers, online courses and certifications, etc.). If a site is not allowing you to apply for jobs at all until you have paid, there is a good chance it is a fraud.