Is Dubai right for you?
Every year thousands of people move to Dubai to take up new jobs. Most stay a few years before returning home. Some end up staying longer term, basing their life and career in Dubai and raising their families there. Whatever your goal and expectation from Dubai, it's worth getting a clear picture of what it does and does not offer, and whether it is the right move for you at this stage of your life and career.
Pros and Cons of Dubai
Any views of Dubai are bound to be subjective and vary greatly, depending on where the person comes from and what they are comparing the city to. For example, Dubai's year-round sunshine, which tends to be a strong attraction for Europeans accustomed to brutal freezing winters, is barely noticed by most people from Asia who are already used to continuous warm weather.
Keeping that in mind, the table below summarises what expats who move to Dubai typically like and dislike most about the city. After reviewing the pros and cons, you have to determine which are important for you personally.
Pros and Cons of Working in Dubai as an Expat
Pros
Attractive tax-free salaries
Diverse career opportunities
English-speaking city
Great infrastructure and facilities
Diverse, multi-cultural environment
Open, tolerant society
Extremely safe
Year-round sunshine and beach
Direct flights to many countries & cities
Quick and easy work permit process
Cons
High cost of living
Very hot summers
Limited green spaces
Largely transient population
No chance of citizenship or permanent residence
Career Opportunities
Dubai is the effective business hub of the Middle East, home to many outstanding and successful companies. These range from multinationals running their Middle East and Africa operations out of the city, to home-grown global market leaders like Emirates Airlines or DP World, domestic giants that dominate local business and commerce, and finally a host of small and entrepreneurial businesses that drive the energy and dynamism of the local market.
Dubai is, of course, stronger in some sectors than others. If you are an architect, engineer or sales professional, you could find an abundance of career prospects. These could include some truly world class experiences – such as building the world's tallest skyscraper or running the world's busiest airport. On the other hand, if you are in high fashion, music or scientific research, Dubai job opportunities may well be limited.
To see what this means for you, you should discover for yourself the depth and breadth of career opportunities Dubai has to offer in your specific field of work. The table below provides a high-level overview.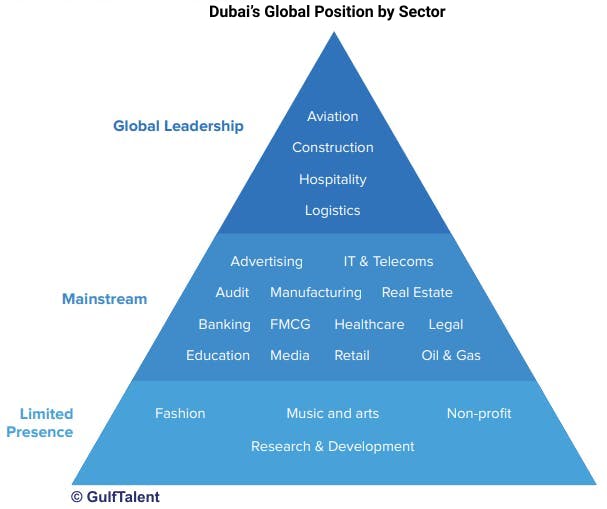 For specific assessment of jobs in your field and sector, you should review the range of jobs advertised on online job boards (such as GulfTalent). You can also refer to our list of top companies in each sector. Once you have identified a few firms that fall in your target sector, you can check their websites or news articles about them, to see what kind of work they do in Dubai.
Salaries
Thanks to its tax-free salaries, net take-home pay in Dubai is among the highest in the world. At the same time, the cost of living is also relatively high by global standards.
The chart below shows the financial impact of moving to Dubai from different cities around the world, in terms of both income and cost. On average, someone moving from London to Dubai would see a 28% increase in their net after-tax earnings, and an 18% drop in their living costs. On the other hand, someone moving to Dubai from Mumbai would see a massive 400% increase in their net earnings, with a 128% increase in their cost of living.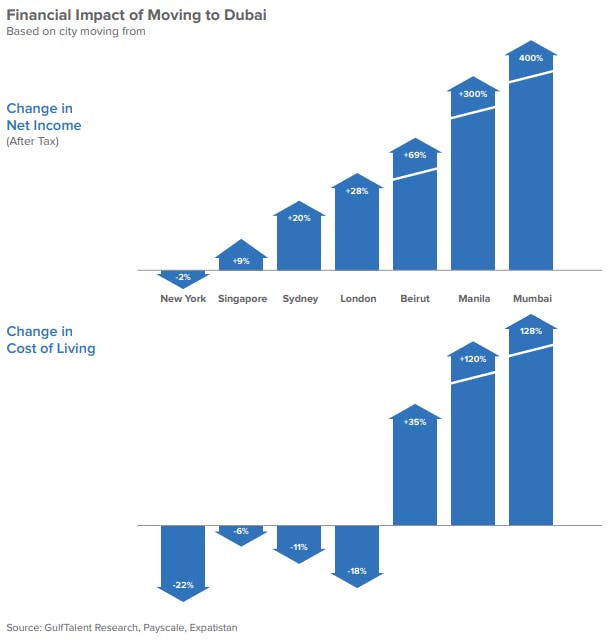 These are average estimates of course, and there are wide variations depending on the company, the role and the person's circumstances and lifestyle choices. For example, those with children face higher costs in healthcare and education. For senior management roles the earnings jump from moving to Dubai tends to be smaller, as such roles already have smaller pay differentials across different markets.
Although Dubai packages are attractive, sometimes outsiders have a misconception that 'the streets of Dubai are paved with gold' and that an experienced expat can demand a ridiculously high package and live like a king. If this is your expectation, you may be in for a big disappointment. While rare skills can command a premium, Dubai jobs are highly sought after and competition for them is fierce. Employers don't have to offer excessively high salaries to attract well-qualified candidates. You can find the range of salaries available in Dubai for your specific role and specialization on www.gulftalent.com/salaries.
It is also worth keeping in mind that certain benefits that may be commonly available with employers elsewhere in the world may not be on offer in Dubai. In particular, pensions and life insurance are rarely offered as part of employment packages, although this is partly compensated by the 'end of service benefit' – a lump sum payment that you receive at the end of your employment, calculated based on your years of service.
Work Environment
Dubai has attracted professionals and entrepreneurs from a host of different countries. Given this diversity, workplace cultures can vary widely. From friendly and laid-back to competitive and cut-throat, from collegial to hierarchical, and from ethnically diverse to nationality-dominated, you can find every type of work environment in Dubai. This makes it likely that you can find an environment you would be comfortable with, but it also makes it critical that you do your research to pick the right company and minimize the chances of a culture shock.
From a gender perspective, workplaces are generally mixed, with no restrictions in terms of professional interaction between men and women. However, you should not mistake Dubai for a liberal Western country. You may at times have to dress and act more conservatively than what you are used to, out of respect for your peers or your clients.
Business Language
Although Arabic is the official language of the country, the main language for business and services is English. It can happen that a firm or a department in the firm employs a majority of staff from a particular nationality. In such cases it is common for daily conversations in the workplace to turn out in a language other than English, for example Arabic, Urdu, Hindi or Filipino. However, official communications across the firm generally are carried out in English.
It is worth noting that, while knowledge of English is enough for most occupations, anyone who is bilingual in both English and Arabic will have a definite advantage in the job market, particularly for client-facing roles.
Dress Code
The general workplace dress code in Dubai is relatively formal, though this varies widely across sectors and roles. Suit and tie for men tend to be more common than in Europe.
However as in many workplaces around the world, casual dress (such as jeans and T-shirts) is becoming more acceptable and is even the trend in the small but expanding tech sector. Emirati employees typically dress in the traditional Emirati outfit.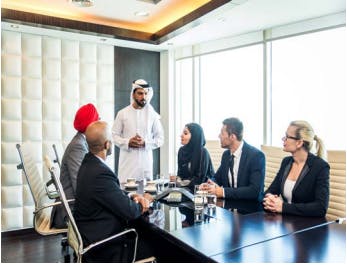 Lifestyle
Beyond career and financial advantages, many jobseekers are attracted by the lifestyle available in Dubai. For families, Dubai remains one of the world's safest cities, with a huge schooling and healthcare infrastructure, while for single professionals, Dubai's young scene and vibrant nightlife have plenty to offer, including easy availability of alcoholic drinks.
Ethnic Diversity
Emirati citizens comprise only 9% of Dubai's population, with the remaining 91% made up of expatriates from nearly 200 nationalities. This has made Dubai one of the most cosmopolitan cities in the Middle East, giving residents the chance to experience a rich array of cultures and to meet and interact with many different nationalities.
While the cultural diversity is generally viewed as a huge asset for Dubai, some people see downsides to it too. Some observe that, despite the opportunities for inter-cultural communication, many expats still tend to live in 'nationality silos', socializing and spending most of their free time with nationals of their own country. Others complain of the city lacking a 'soul', as they rarely come into contact with the local population or get to witness the city's traditional heritage.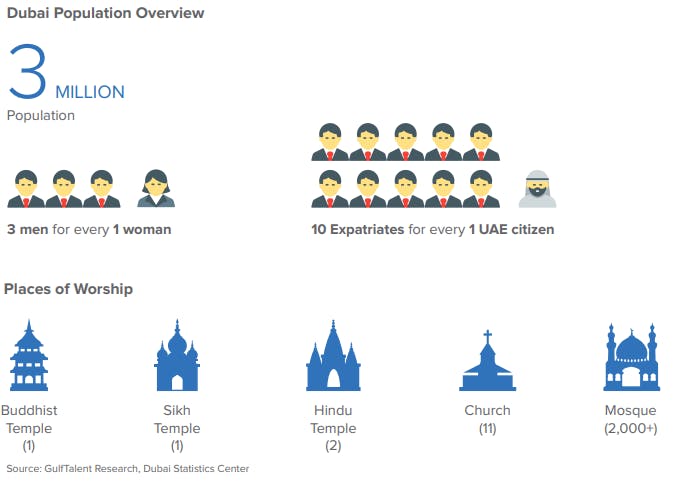 Global Connectivity
Dubai is one of the best-connected cities on earth with regular direct flights to almost every major country in the world, a world-leading airline and an international airport that has recently overtaken London Heathrow as the world's busiest. Dubai's geographical location, poised between Europe, Africa and Asia, encourages many residents to visit destinations that may have seemed out of reach from their home countries, or to travel easily back to their home countries for holidays or breaks.
Latest Job Market Trends
The following developments have impacted the job market recently:
VAT
The UAE government has introduced a new 5% tax on most goods and services, called value-added tax (VAT). This has raised prices across the board, which has had a slight negative impact on the retail sector. On the other hand, the demand for accounting and IT professionals has soared as companies scramble to make their systems and processes compatible with the new tax.
Falling rents
Partly as a result of the building boom over the last few years, Dubai is currently experiencing an oversupply of residential properties. In consequence, residential rents across the city have declined significantly. This has allowed employees to upgrade to larger homes in more desirable neighbourhoods, or to have more money to save or spend.
Expo 2020
Expo 2020, a massive international exhibition due to be hosted by Dubai, is fast approaching. Dubai Expo 2020 will run for 6 months and is driving the Dubai construction sector, as the city builds new infrastructure, including expansion of the road network and new hotels to accommodate the expected inflow of visitors.

More start-ups
Historically Dubai has seen fewer tech start-ups than other major global cities. This has started to change over the last few years, with a growing number of well-funded start-ups based partly or fully out of Dubai. These include Careem, the Middle Eastern competitor to Uber, and Souq, the regional e-commerce leader recently acquired by Amazon.
Shifting Tourism
Following the collapse of oil prices in 2015, Dubai hotels saw a sharp fall in regional tourism from neighbouring countries such as Saudi Arabia. In response, the government has introduced visas on arrival for visitors from several populous countries, including China and Russia. This has revived Dubai tourism and helped maintain jobs in the sector.