Which Companies to Target
Dubai's business landscape spans thousands of companies with vastly different needs, preferences and corporate cultures. Too many candidates struggle in their job search because they do not know which companies to target. Or worse, they end up joining the wrong company and live to regret it.
In this section, we try to help you understand which Dubai companies are right for you, and where you have the best chance of getting the job that you'll be happy in.
Types of Employers
Broadly speaking, companies in Dubai can be classified into four groups. Each group has its own advantages and disadvantages, and some are tougher to get into than others. The table below summarizes the typical profile of each type of company, followed by pros and cons of each company type, to help you determine which type is most suitable for your professional goals.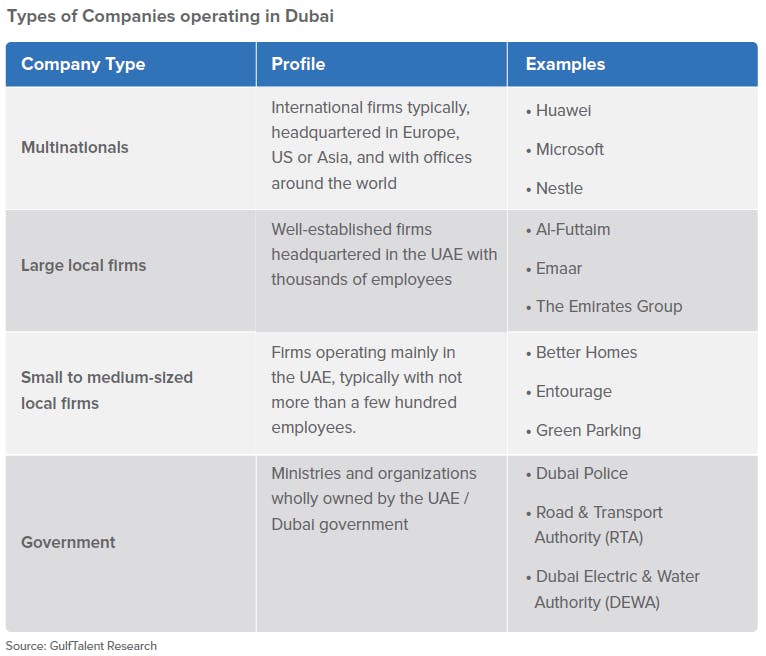 Multinationals
Multinational companies tend to be the most popular employment choice for expatriates. There are obvious reasons for this: working for a high profile global brand makes your CV stand out; multinationals often bring an international working culture, attractive pay packages and benefits, challenging work, training, and opportunities to relocate to other parts of the world within the organisation. The downside of working for multinational companies can be a high-pressure work environment and tougher path of progression, especially as vacancies can be filled not just locally but globally from other offices, making the competition for each opening particularly intense.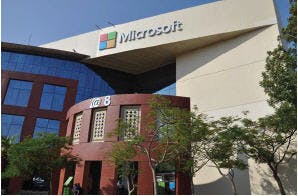 You should also keep in mind that multinationals vary greatly as to how well they maintain their global values, standards and practices on a local level. While many global companies operating in Dubai actively embrace and implement the global firm's corporate culture and values (such as diversity, empowerment, investment in training and development, etc.) there are others that may be multinational in name but operate largely based on local practices, bearing little resemblance to their European or North American operations.
Large local firms
Large-scale local enterprises form the heart and soul of Dubai's commercial environment and are by far the largest employers. These companies, many of them still family-owned, have evolved into highly sophisticated businesses. Like multinationals, they tend to have structured processes for hiring, welldefined day-to-day operations, salaries and career progression. However, they tend to have a more local feel and culture.
Like multinationals, these firms offer a fairly predictable career track and are ideal for those wanting to focus on a specific role within a structured environment. Competition for these jobs can be tough, due to the well-established reputations of these companies.
Local SMEs
Small to medium-size enterprises (SMEs) tend to have been more recently established and are frequently owned and managed by the founder or founding partners. Because they have fewer employees, fewer organisational layers and less bureaucracy than larger corporations, they can offer a wider scope for on-the-job learning and accelerated career progression. The roles also tend to have a broader range of responsibilities and involvements. For example, working in sales for an SME, you may be drawn into marketing initiatives, or may be asked to help recruit new sales staff, responsibilities that in a larger firm would have dedicated departments and executives to handle.
On the other hand, smaller firms tend to offer less formal training, and may at times be less organized and more unpredictable. SMEs are heavily influenced by the owner or founder's personality and culture, which may fit some people and not others. Compared to the other categories mentioned, finding a job within a smaller local company can be less challenging given the sheer number of SMEs in the market and the relatively lower competition for employment in this category.
Government
These jobs tend to be popular with some segments, because of high pay and a perception of less work pressure. However, employment in the government sector is understandably prioritized for UAE nationals. Securing employment with government organizations is nearly impossible for expatriates, except in specialized fields where locals cannot be found, or in jobs locals are unwilling to do.
Even if you manage to secure a government job, as soon as a suitable local person is found to fill your position you will almost certainly be replaced (generally referred to as the position being 'Emiratised'). Therefore, job security in this segment for expatriates is significantly lower than in the private sector.
Assessing your Chances
One important factor you need to consider is your market worth and appeal to employers. If you are working for a multinational in your home country, your chances of securing a job in Dubai are highest, because the brands on your CV are likely to be recognized. In this case, you may have a good shot at similar positions with Dubai-based multinationals or large local enterprises. If the employers on your resume are smaller firms or only known in your home country, you may have to spread your net wider, to include smaller local firms in your job search, or be willing to take a more junior position than the job you had in your home country.
Industry Sectors
Contrary to popular perception, there are many areas in the Middle East that have almost no oil and gas reserves. Dubai is one of them. That is why Dubai's leaders have looked to diversify its economy and have done so with impressive success. The city now has one of the most diverse economies in the Middle East, with a wide range of industries offering many and various employment opportunities.
Below are the main industries in Dubai and a selection of the top firms in each.
Top Dubai Companies by Sector
No results match
Top Multinational Dubai Companies in [word] are:
Top Local Dubai Firms in [word] are:
When to target by sector
Whether you need to target a particular sector or not depends on your profession and the field you specialise in. Certain job types are found only in specific sectors – for example, doctors are employed by hospitals and clinics. If your profession is specific to one industry, there will be fewer companies to apply to but for this very reason it will be easier to identify the companies you want to approach.
Other professions, such as Accounting or HR, can exist in almost any industry. If yours is not an industry-specific profession, you may have a wider range of opportunities and need not target a specific industry or set of companies. On the other hand, you may also be competing with a larger pool of candidates.
Role Prevalence by Sector
No results match
Sectors with high number of [word] vacancies are:
Other sectors that offer some [word] vacancies are:
Impact of Nationality
Nationality can sometimes be a factor in your Dubai job search, either as an explicitly stated requirement, or silently applied during the selection process. It is important for you to understand what role nationality plays in the process so you can use it to your advantage and avoid wasting time on companies where you may not fit the nationality profile.
Basis of Nationality Preferences
While many jobs in Dubai are open to all nationalities, it is quite common to see job ads soliciting candidates from a particular nationality. There are several reasons for this:
Emiratisation: Foreigners constitute a staggering 99% of Dubai's private sector workforce. To increase the number of Emiratis in the private sector, some sectors such as banking or energy are required by law to hire Emiratis for a certain percentage of their workforce (the 'Emiratisation quota').
Business Needs: Sometimes companies seek out a particular nationality due to the need to interact with particular audiences. For example, real estate companies recruit Russian nationals to sell Dubai real estate to Russian visitors and investors. Similarly, companies that predominantly employ Indian staff who don't speak English may recruit an Indian shift supervisor.
Visa Challenges: Ease of getting visas to travel to other countries can be a significant recruiting factor for some jobs. For example, North American or European passport holders can get visas on arrival in neighbouring Gulf countries, which would give them an advantage for jobs requiring extensive regional travel – for example, a Business Development Director role in a multinational.
Personal Preferences: While the concept of 'equal opportunity employment' is encouraged in Dubai, it is not always legally enforced. Employers may favour a particular nationality when hiring even if there is no compelling legal or business need for it. In most cases, this occurs because people are naturally more comfortable hiring other people like themselves.
Targeting Companies by Nationality
You should certainly apply for any job that you are qualified for. However, everything else being equal, you are likely to have more success approaching companies that already have significant numbers of employees from your own nationality.
The table below provides a rough indication of nationality distributions by sector. For example, it shows that the top employment sectors for British nationals in Dubai are law firms, recruitment agencies, consultancies and schools. By contrast, Russian nationals are working predominantly in aviation, hospitality, oil & gas and real estate.
Common employment sectors by nationality
No results match
Sectors with the highest concentrations of [word] nationals are:
Dubai vs. Other Emirates
Many people starting a Dubai job search come across opportunities in nearby Abu Dhabi, or, occasionally, Sharjah. Taking up these jobs can sometimes give you a 'near-Dubai' experience, but there are some notable differences that you should be aware of. Here is a brief comparison of these options.