Building your Profile
Having decided which sectors, companies and locations you want to target, you need to make sure you have an attractive profile for those jobs. In this section, we'll show you how to present yourself and your capabilities and qualifications to maximise your chances of securing an interview and ultimately a good job in Dubai.
Creating a Winning CV
Far too many people apply for jobs with mediocre and poorly written CVs, and then wonder why they don't get any interviews. There is a common perception that the CV (also called a résumé) just needs to show where you worked and what you did. If this sounds like your CV, you may get nowhere in your Dubai job search. To succeed you have to remember the following. If you are serious about your Dubai job search, you absolutely must do your homework and invest serious time in preparing a superb CV.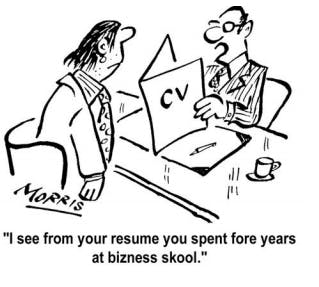 First and foremost, you have to remember that your CV is a marketing document; a brochure designed to sell you and your skills to employers, much like a product. Its contents, language, punctuation, font and even the quality of paper it is printed on (if you are submitting it physically) all matter and have an impact on your chances of getting the job you're applying for.
Secondly, you have to remember that HR Managers receive hundreds of CVs for each vacancy. They review them quickly, sometimes spending a few seconds on each CV, and make quick judgments about whether to eliminate the candidate or take them to the next level.
If you are serious about your Dubai job search, you absolutely must invest serious time, thought and effort into preparing a professional and eye-catching CV.
Structure of a CV
Your CV should typically contain the following sections:
Key Elements of a CV
Section
What to include
Contact Details

Main mobile number
Second contact number
Email

Personal Information

Nationality
Age / Date of Birh
Marital Status
Visa Status
Driving license

Work Experience

Dates (Current role first)
Company Name
Your job title
Brief about what the company does
Brief about what you did there (see next section)
Reason for leaving
Explanation of gaps in dates (if any)

Education

Dates (Recent first)
Location
Full qualification with acronyms
Level of attainment (if relevant)

Additional Skills

Languages (Recent first)
IT Skills
Certifications and license
Work Experience
This is the most critical part of the CV and what very few jobseekers manage to get right. A common mistake is to list your responsibilities, typically copy-pasted straight from the job description. What employers are more interested in is what you 'achieved' in the role, preferably quantified. See examples below.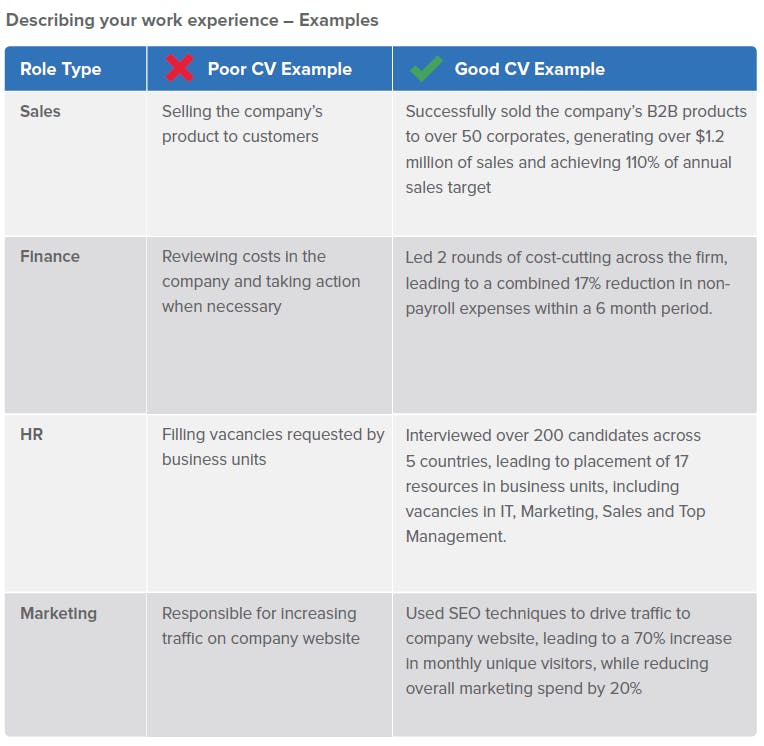 Free CV Reviews
You can get your CV reviewed free of charge through GulfTalent. This will provide you with some expert advice on your CV and identify areas for improvement. To submit your CV for a free review, visit www.gulftalent.com/free-cv-review.
CV Writing Services
Writing an effective CV is a skill that can takes years to master. There are professional CV writers whose job it is to produce professional CVs, based on your specific profile and experiences. Many people who believed they already had decent résumés, after having their CV re-written by a professional experienced a jump in the number of interview calls they received.
If you feel that you could do with some professional help on your CV, you can utilise this service at www.gulftalent.com/cv-writing.
Customising your CV for Dubai
In addition to globally recognized guides for crafting a strong and effective CV, there are some local norms that you should follow when preparing a résumé for vacancies in Dubai. These may differ from what you are used to in your home country, but they are expected in Dubai and you need to follow them.
Nationality: Your passport nationality needs to be mentioned on your CV under your personal details. If you have dual nationality, mention both.
Photo: Most companies in Dubai prefer to see your photo on the CV. For multinationals and for more senior roles,
this tends to be less common. However, for any customer-facing jobs, it is absolutely critical. Make sure you are groomed and dressed professionally. Smile. And avoid selfies. Female applicants should avoid overly revealing or
provocative photos.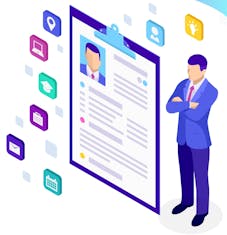 Work experience: Having worked for a well-known and reputable firm in your home market may help your prospects with employers in your home country. However, unless that company is well known in Dubai, you will find that your home experience may not open many doors. To address this, it's worth adding a brief description of the company in your CV to convey its value and importance, for example "ABC Corporation – Largest consumer goods firm in the UK".
Education: The university you graduated from might be the most prestigious in your home country but could still be unknown in Dubai. If your university is something you are particularly proud of, you should add a description that conveys this, for example "Indian Institute of Technology – No. 1 engineering university in India".
Certifications: You should highlight in your CV any certifications you have obtained, particularly from international institutions as they are more likely to be recognized in Dubai than any domestic certifications from your home country. If you happen to have obtained Dubai government certifications or licenses, these should definitely be mentioned.
Driving license: This can be important for some sales roles that require extensive travel within Dubai or to neighbouring cities.
Visa status: If you are already in Dubai when applying for a job, you should mention your visa status—whether you are on a visit visa, employment visa or as a dependent.
Availability: Many employers strongly prefer candidates who are available immediately and do not have to serve a notice to their current employers and go through the process of visa change. If you happen to be not working and available to start immediately, it is best to mention this.
CV Length: HR professionals don't need to read a long CV to assess a candidate's qualifications. A 1-2 page CV is the right length to submit, even if you have decades of experience. Be clear and concise.
Attachments: Although it is common practice in certain countries to include many attachments with the CV (e.g. passport copy, degree certificate, testimonials, etc.) in Dubai, this is not the norm and can even put employers off. Submit your CV without attachments, only providing additional documents on request.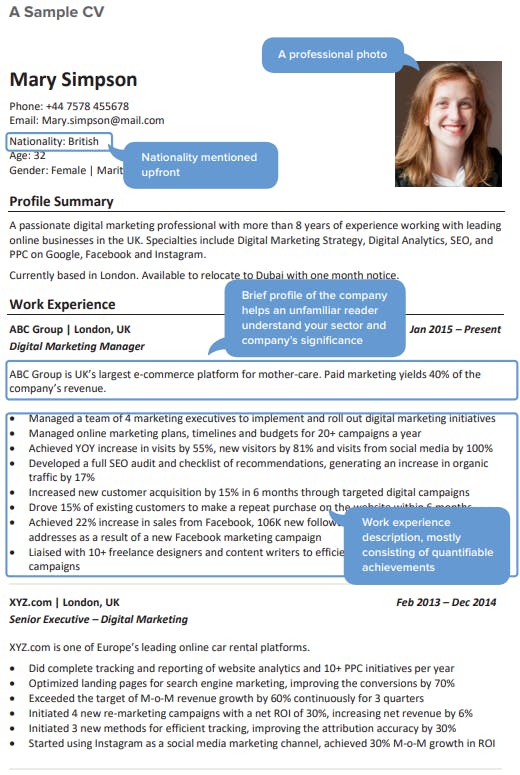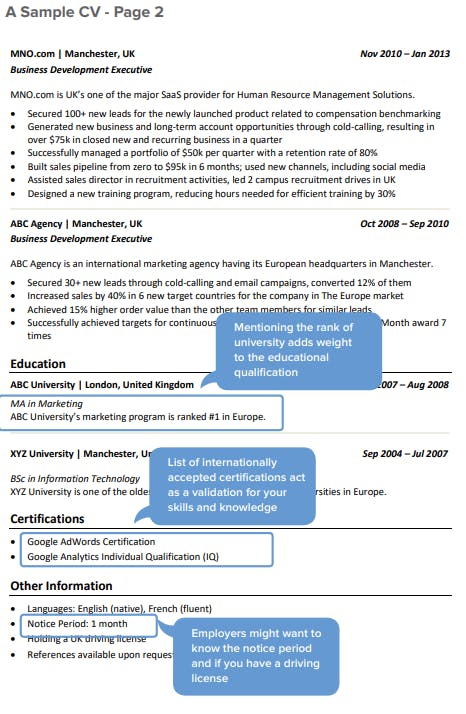 Certifications and Licenses
Certificates
Dubai employers love certificates! For most professions having a certificate from an internationally recognized body will significantly boost your chances of securing a job. Certifications from UK and some US professional bodies are the most highly valued in Dubai – for example, CIPD or SHRM for human resources, ACCA or CIMA for Accounting, etc. You can see below a full list of the most recognised certifications in Dubai. Note that the preferences may vary from one employer to another.
Common Certifications by Job Category
No results match
[word] professionals in Dubai often hold one or more of the following certifications:
Licenses
In certain professions, having a local Dubai license is important. For example, for Real Estate brokers it helps to have a 'RERA license' (issued by Real Estate Regulatory Agency). Doctors and nurses need to obtain a 'DHA license' (issued by Dubai Healthcare Authority) to work in Dubai.
Some licenses are easy to obtain by taking a short course, while others may take months of follow-up with government entities. The harder they are to get, the fewer people have them and the more you stand out in the job market if you do. In some cases, the right certificate or license may be all that the employer needs to see before they hire you!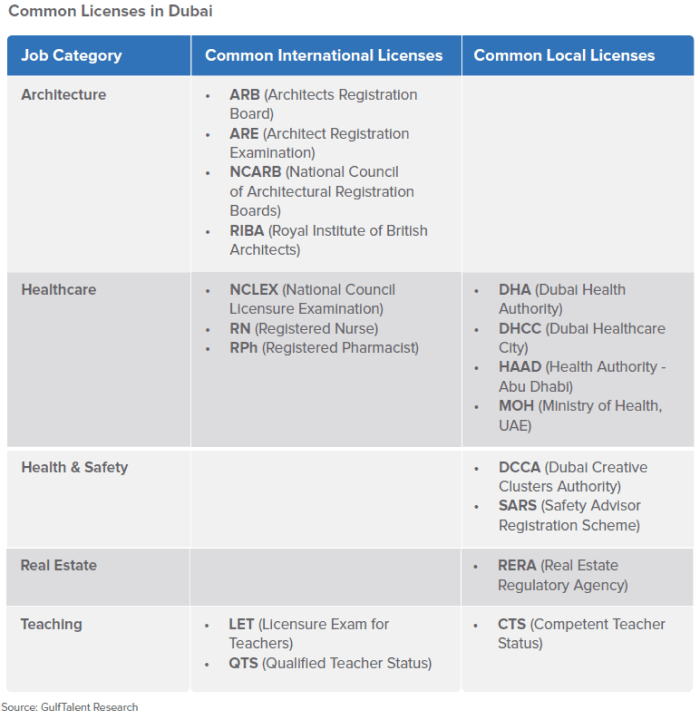 In some cases, licenses issued in other countries can be helpful, either directly as a recognized license (for example the UK-issued ARB license for architects) or indirectly because it can help you secure the corresponding Dubai license (e.g. for doctors).