Reaching Employers
You may have a fantastic profile and a superb CV, but if the right people in the right companies don't get to see your CV, you are not going to get invited for an interview. In this section, we will tell you about the different ways you can reach employers in Dubai, to maximise your chances of landing your ideal job.
Jobsites
Many of the top employers and recruitment agencies use online job sites such as GulfTalent to advertise their job openings and reach the right candidates.
A job site will have an online registration process that will ask for your full professional profile. It can take around 5-10 minutes to build your full profile online, but you are well advised to invest the time, as you can then easily apply to multiple jobs across many firms and stay updated on the latest vacancies that come up.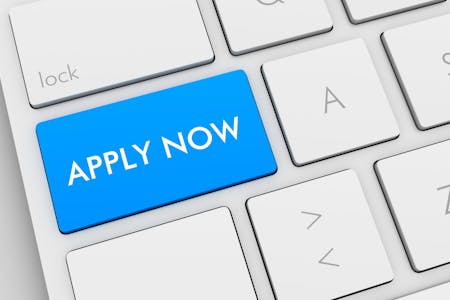 It is worth keeping in mind that many new vacancies in Dubai never get advertised. Instead employers search the CV database of jobsites for relevant candidates and approach them directly. Building your full online profile allows you to come up on such searches and get contacted by employers with jobs appropriate for you, even when the vacancy isn't advertised.
Free vs. Paid Membership
While it is possible to use Dubai jobsites free of charge, they sometimes provide additional services for a fee. The most common is 'premium' membership, which typically gives you a higher level of visibility and exposure to employers, and also more details on the application process that can help you refine your job search strategy. For example, you can see how many other people are applying for jobs that you are targeting, and how their profiles compare with yours. These are tools to help you increase your chances in a competitive job market. However, the premium service is never a guarantee that a job will be delivered to you on a silver platter.
Other services that you can purchase on jobsites include online courses and certifications that may make your profile more attractive to employers, and CV writing services to make your CV stand out.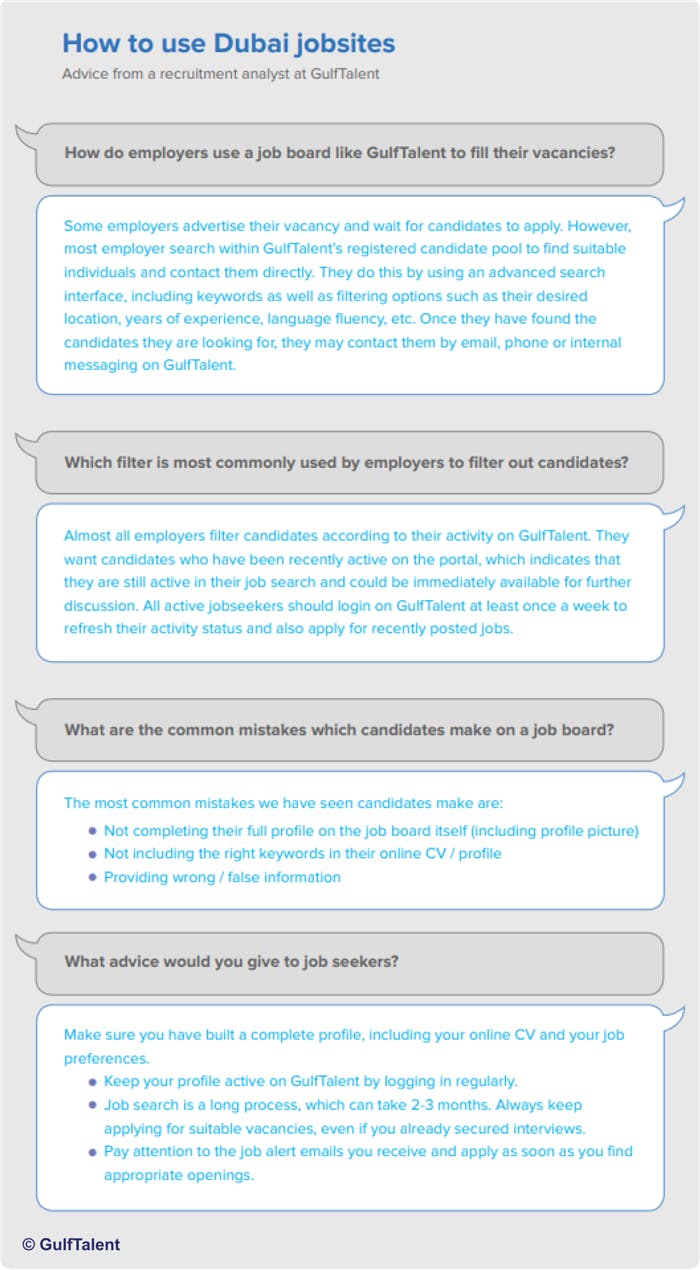 Recruitment Agencies
There are hundreds of recruitment agencies operating in Dubai and they are used extensively by employers to identify suitable candidates. You should look for agencies that handle recruitment in your field and make yourself known to them.
How to Use Agencies
There are some common misconceptions about recruiters in Dubai. Jobseekers coming from Asia, who are typically used to paying recruiters a fee, expect to get charged and are surprised to find the service is actually free for them. On the other hand, jobseekers coming from Europe who are used to being showered with free attention by recruiters, tend to expect a similar level of personal service in Dubai and are disappointed when they do not receive it.
You should keep in mind that Dubai recruiters are paid by employers to fill specific vacancies requested by those employers. They typically receive hundreds of CVs every day and do not charge candidates any fees for their services. If your profile matches a position they are trying to fill for their client, you will hear from the recruiter and may even get a meeting with them. Otherwise in most cases, you will not hear back at all. Moreover, you should not expect Dubai recruiters to meet with you or spend time advising you on the job market.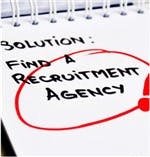 The best way to get a recruiter's attention is to find out what vacancies they are working on at that particular time (for example, through jobs that they have advertised), select those that you feel you are qualified for, and let them know why you are a good fit for those jobs.
Also keep in mind that a recruitment agency typically has several individual recruitment consultants. Each consultant may focus on a different job category or sector. It is worth finding out who within the agency deals with your job type and communicating with that person.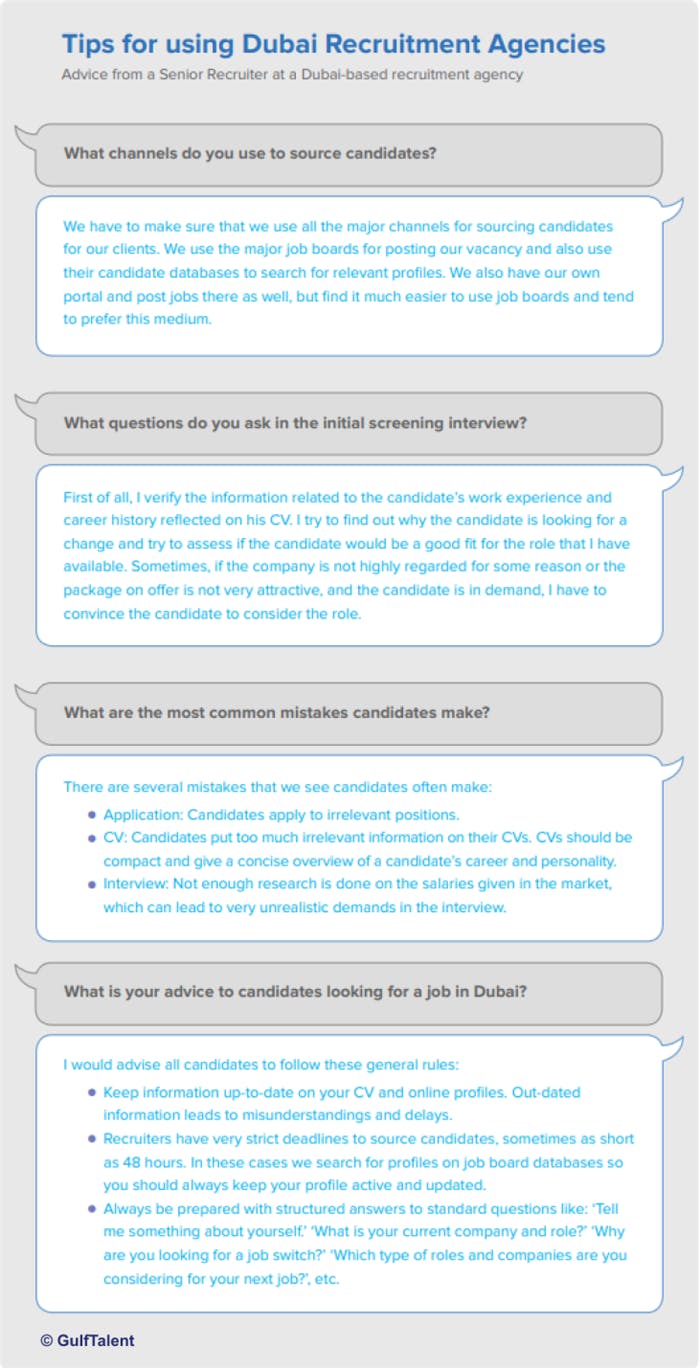 Top Agencies by Specialization
Below are a selection of popular recruitment agencies active in Dubai, together with the types of vacancies they handle. You can select those that are relevant to your job search and send them your CV. Alternatively, one efficient way to reach out to multiple agencies is to build your profile on a popular job site and use that to reach all the recruiters trying to fill vacancies in your field. This is because most recruitment agencies actively use job sites such as GulfTalent for finding suitable candidates.
Top Dubai Recruitment Agencies by Sector
No results match
Recruiters most active in [word] are:
Executive Search Firms for Top Management in Dubai
No results match
Executive Search Firms most active in [word] are:
Company Career Sites
Many companies advertise vacancies in the career section of their corporate website and accept applications online. If you are targeting a specific company, you may be able to check online and apply to them directly through the website.
This method has its limitations. First of all, some career sites are notoriously difficult and frustrating to navigate as compared with jobsites, which are generally more user-friendly, work on smart phones, tablets and computers, and typically also let you apply through an app.
Secondly, registering on each site separately takes time and you will have to re-enter a lot of the same information many times over. In case you do decide to apply to multiple companies directly on their websites, it is worth maintaining an Excel file with your standard info, so you can copy-paste it each time you are registering on a new site.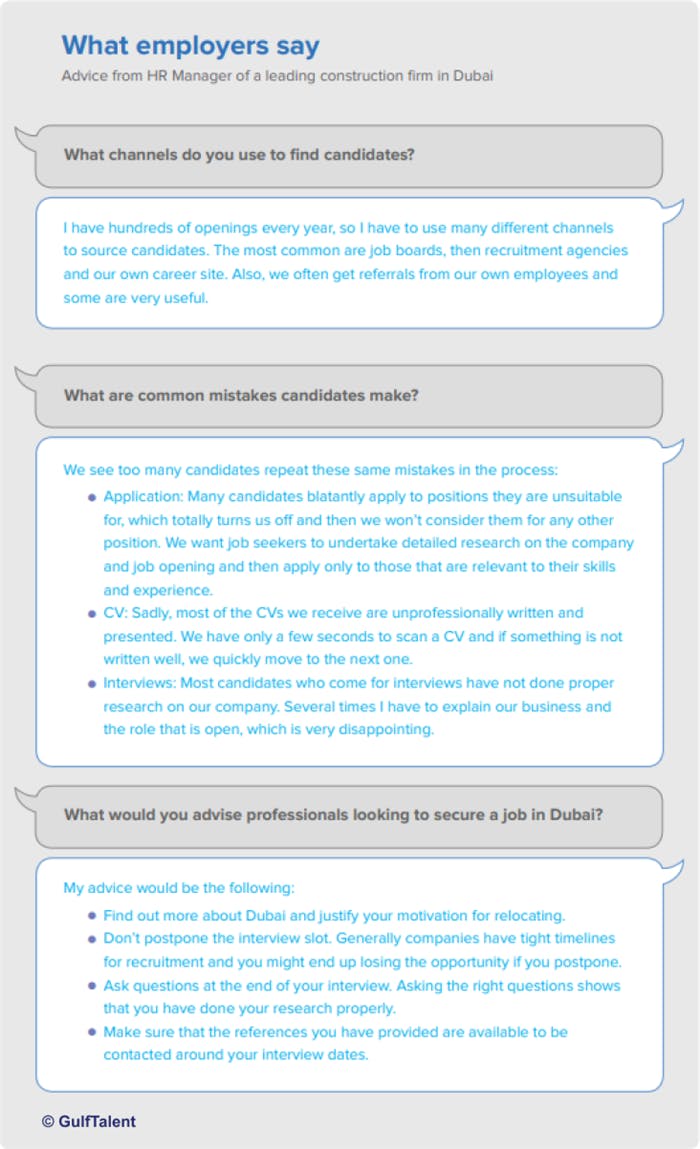 Networking
Networking with people you know who are already working in Dubai, especially if they are in senior positions, can give a big boost to your job search. Below are some possible routes you can explore for this. Some are only available if you are physically in Dubai, while others can be tried even remotely from your home country.
Friends and family
If you have friends or relatives in Dubai, get in touch with them. Ask them if they are aware of any openings in your field. Some jobs are filled through these kinds of personal referrals before they are made public or advertised. If your CV goes to HR through an existing employee in the firm, there is a better chance that it will be considered.
Trade shows
Dubai is by far the biggest centre for exhibitions and trade shows in the Middle East, and one of the largest in the world. There are exhibitions held in Dubai almost every day throughout the year. Most exhibitions and trade shows are free to attend. A selection of major events is shown in the table below. You can check the full list of all upcoming events on the website of Dubai World Trade Centre at www.dwtc.com. If you are able to attend any of the events in your field, make sure you dress smartly, carry printed copies of your CV, and initiate dialogue with companies related to your field of interest.
Note that even if you don't get an interview out of it, the on-stand conversations you have could help you learn more about a particular sector in Dubai, which can help in future interviews.
Largest Trade Shows in Dubai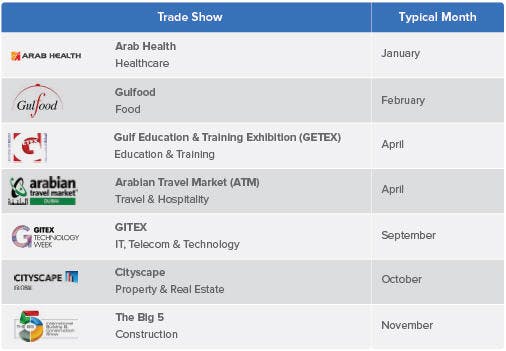 University alumni network
Many universities now maintain an online directory of their alumni around the world accessible to all the university's former students. If your university offers this, use it to search for alumni who may be living in Dubai and reach out to them for advice and contacts that could help your job search. Many alumni have strong sentimental attachments to the institution where they studied and are more than happy to help out fellow alumni.
LinkedIn
You can try to find people who work in your industry and contact them via LinkedIn. In this case, your best chance is through people who have some kind of connection with you, for example, are connected to your contacts or graduated from the same university.
National business groups
There are dozens of national business groups in Dubai. These are loose associations of businesses and individuals from a particular country, with the purpose of helping their members succeed in business in the UAE. These organisations hold networking events and welcome fellow nationals to attend. If you are in Dubai, make sure you attend the events held by your country's business group.
Below is a selection of the active national business groups.
Main National Business Groups in Dubai
Best Times for Job Search
The Dubai job market is generally active throughout the year, with vacancies advertised all the time. However, there are certain periods when hiring is slower than usual, fewer vacancies are on offer, the lead-time to get an interview is longer, and decisions take much longer.
These slow periods include Christmas and New Year (December to mid-January), Ramadan (falling in May and June) and summer (July and August, including the Eid holiday).
Note that, due to the use of lunar calendar for religious occasions such as Ramadan and Eid, the dates of these goes back by around 11 days each year.